2016 Moynihan Prize Co-Winners: Isabel Sawhill and Ron Haskins
On May 12, 2016, in the historic Kennedy Caucus Room on Capitol Hill, Isabel Sawhill and Ron Haskins, colleagues at the Brookings Institution, and the first ever co-winners of the Moynihan Prize, gave the fourth annual Daniel Patrick Moynihan Lecture of Social Science and Public Policy. Drs. Sawhill and Haskins were awarded the Daniel Patrick Moynihan Prize for having worked for decades across traditional partisan lines and for having used evidence-based research when offering up public policy solutions.
Sawhill and Haskins were introduced at the lecture by their colleague at Brookings, Richard Reeves, who identified some of the keys to their successful bipartisan working relationship.  Among them is "a deep respect for the views of others regardless of their political position, a willingness to adapt their views to the facts and not the other way around, and an insatiable curiosity. …"  "What Belle and Ron have shown us," Reeves said during his introduction, "is that the skills required for good bipartisanship are the skills required for good scholarship."
Dr. Sawhill's comments focused on the impact of single-parent families on the broader economic realities facing Americans today.  "The portion of babies born outside of marriage is about 40 percent," Sawhill said. And the child poverty rate is five times higher in single-parent families compared to two-parent families.  "My estimate is that the child poverty rate has increased by about 25 percent since 1970 because of the changes in family structure," Sawhill said.
According to Sawhill, while conservatives say that the best policy is to reinforce two-parent households, the reality is that any program attempting to promote marriage has not really worked.  Similarly "liberals say the problem is poverty and that we need to provide more assistance, "she says, "but one has to wonder if it can keep pace with the need."
In his comments, Haskins noted that historically Congress has continued to pursue political agendas without placing much emphasis on program effectiveness.  According to Haskins, it is important for social scientists to remain focused on research that produces hard evidence that can guide the development and reevaluation of social programs.
There are encouraging signs of the expanding importance of evidence-based policy, Haskins said, "and the many roots that are now being planted offer the best chance of not only fulfilling the social function of social science but of actually leading to substantial progress against the nation's social problems."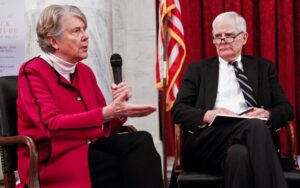 Watch the 2016 Moynihan Lecture