AAPSS Awards 2015 Moynihan Prize to Rebecca Blank
Rebecca Blank, Chancellor of University of Wisconsin-Madison and former Acting U.S. Secretary of Commerce, was named the 2015 Daniel Patrick Moynihan Prize Winner, by AAPSS. The Moynihan Prize honors individuals who use sound analysis and social science research to inform public policy, while also contributing to the public discourse on society's most pressing issues, much like the prize's namesake, the late Senator Moynihan, did. During her time at the Department of Commerce Blank promoted economic development while connecting research and innovation with job creation and economic growth. Dr. Blank's impressive career in public service extends beyond her time at the agency. She was a member of the Council of Economic Advisers from 1997 to 1999 during the Clinton administration; and she was also a fellow at the Brookings Institution before joining the Department of Commerce. From 1999 to 2008, Blank served as dean and professor of public policy and economics in the Gerald R. Ford School of Public Policy at the University of Michigan and she has held faculty positions at Northwestern University and Princeton University. Blank's dedication to informed policy-making, as evinced by her research, teaching, and public service, is aligned with the spirit and intention of the Moynihan Prize. As part of the Prize ceremony, Dr. Blank gave a public lecture on May 7, 2015 at the National Press Club in Washington, DC.
Jason DeParle, New York Times journalist and Pulitzer Prize winner, introduced the Chancellor. In his opening remarks, DeParle characterized the Moynihan Prize as an honor that recognizes academic achievement and political deftness. Of the honoree's career, DeParle noted, "indeed Dr. Blank has already led three careers with more distinctions than most people achieve in one: as a scholar, a senior government official, and a university president. In all three of these roles she's used her scholarly grasp of economics to solve a large variety of real world problems."
In the closing comments of a persuasive and information-dense presentation, Dr. Blank contended, "as other countries invest more in education and innovation, we can't lag behind if we want to maintain our global leadership these are key issues for economic growth and competitiveness and calls for efficient or smaller government should not mean reduced government in areas where public support matters." The event was well-attended by policy makers and academics with diverse areas of expertise.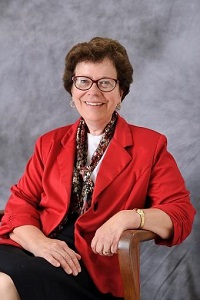 Watch the 2015 Moynihan Lecture